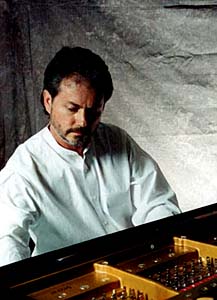 Ray Lyon
Atmospheric, evocative, lyrical, stilling, beautiful, cinematic, panoramic... these are some of the words that describe jazz keyboardist Ray Lyon's music. It is uplifting, spirit-filled music that creates longings for Heaven and will inspire you in your walk with God.
Overall comment on both albums:
Ray's compelling and fresh brand of instrumental contemporary jazz is reminiscent of Pat Metheny Group, Yellowjackets, and film composer Mark Isham yet with an original sound all its own. Lyrical, melodic, and accessible, Ray's music focuses on well crafted jazz improvisation, textural orchestration, and sophisticated writing that is the hallmark of excellent musicianship.